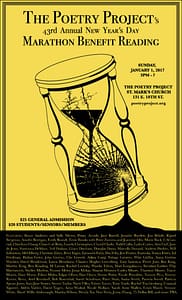 2016 is almost over! Believe it!
All this will soon be behind us. And what better way to celebrate the new year than with a poetry marathon?
I have the great honor of reading this year at the Poetry Project's 43rd Annual New Year's Day Marathon.
131 E. 10th St. NYC from 3pm January 1st until.
$25 general admission, $20 students/seniors/members.
Come through. I'll be there some time along with lots of other wonderful poets & musicians.
Let's get 2017 started right.
fb details: https://www.facebook.com/events/320515378334361/
If you're interested in getting involved behind the scenes and getting into the Marathon for FREE, consider volunteering two hours of your time to help to make the event happen. Email lh@poetryproject.org for more information or to sign-up.