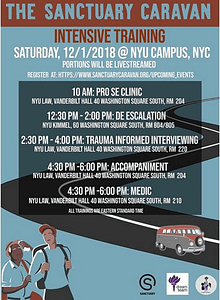 The New Sanctuary Coalition is offering intensive trainings tomorrow, December 1, both in person in New York City and via livestream to support the Sanctuary Caravan.
From the Sanctuary Caravan,
"We regard this Exodus and the Caravan we are building to meet the Exodus as an act of nonviolent resistance against morally abhorrent laws which infringe upon the rights of human beings to better the lives of their children and families.
We believe the imprisonment, deportation and mistreatment of people, because of where they were born, to be the greatest moral crisis of our time.
We condemn in the strongest possible terms the violence of Mexican and U.S. authorities waged and threatened against this movement of people engaged in self-liberation.
The violence they are fleeing has been inherited from U.S. imperialism, and the political pressure the U.S. places upon Mexico to treat the Exodus with violence constitutes colonialism.
Restrictions on migration have ruined and ended too many lives.
Borders are used as weapons of mass destruction. Their brutality escalates, not only because brutal force control the law, but because not enough good people resist them."
Join us, even if you're not able to travel to the border.  For details and to RSVP, visit: https://www.sanctuarycaravan.org/upcoming_events.