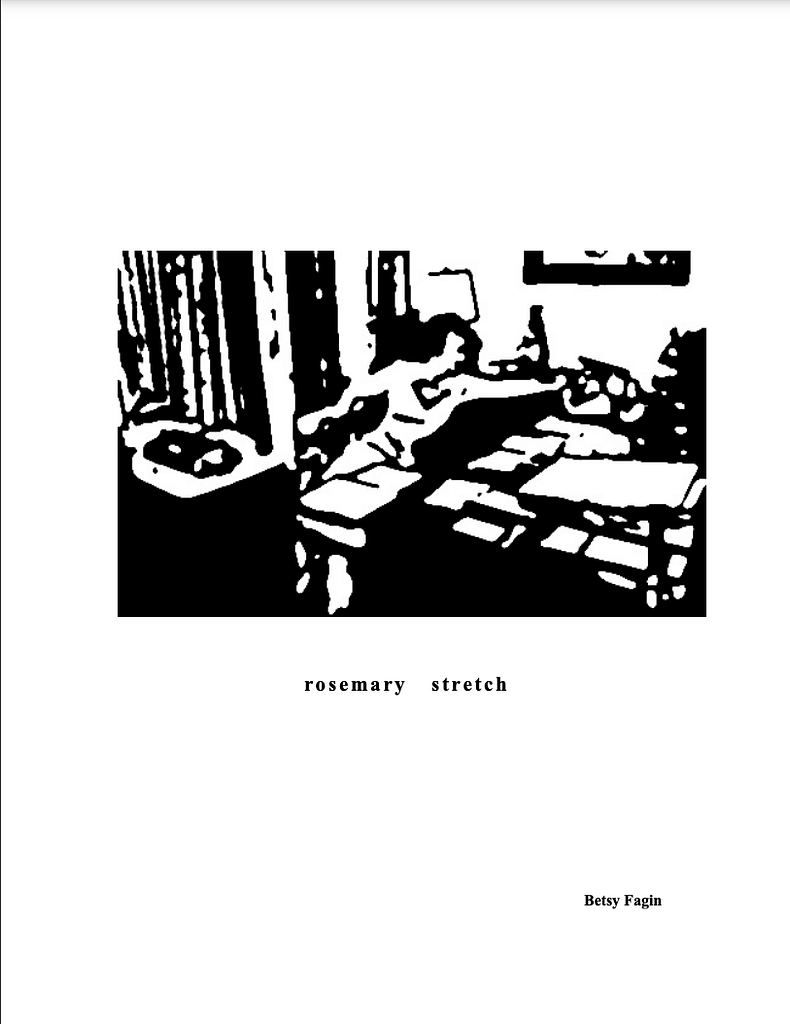 books:
Fires Seen From Space (Winter Editions, 2024)
All is Not Yet Lost (Belladonna*, 2015)
Names Disguised (Make Now Books, 2014)
selected chapbooks:
resistance is beautiful (therethen, 2019) (PDF)
the science seemed so solid (dusie kollektiv, 2011)
Poverty Rush (Three Sad Tigers, 2011)
Belief Opportunity (Big Game Books, 2008)
rosemary stretch (dusie e/chapbook, 2006) (PDF)
For every solution there is a problem (Open 24 Hours, 2003)
selected journal publications:
About Place | Alice Blue Review | BathHouse Journal | Bone Bouquet | Brooklyn Rail | Brooklyn Review | Critical Quarterly | Coconut | DC poetry | DIAGRAM | Dusie | East Village Poetry Web | Fence | Five Fingers Review | HOW2 | Kenning | La Fovea | Little Red Leaves | LuigiTenCo | Lungfull! | Obsidian | Open Letters Monthly | The Philadelphia Review of Books | Poetry Project Newsletter | Pom2 | The Recluse | Skanky Possum | Spiral Orb | Spooky Boyfriend | the tiny | Torch | Upstairs at Duroc | Van Gogh's Ear | Vlak | Women's Studies Quarterly | Word for/word
anthologies:
Letters to the Future: BLACK WOMEN / Radical WRITING, Hunt & Martin eds,. 2018, Kore Press
The Sonnets: Translating and Rewriting Shakespeare, Legault & Cohen eds., 2012, Nightboat Books
Starting Today: 100 Poems for Obama's First 100 Days, Zucker & Greenberg eds., 2010, University of Iowa Press
Not for Mothers Only Wagner & Wolff eds., 2007, Fence Books
(the invisible city) Durand ed., 2001, Erato Press
The Booglit Reader, Kirschenbaum ed., 2000, Boog Press
reviews:
The Volta Blog on Names Disguised
Publishers Weekly on All is not yet lost:
"Fagin negotiates between structural powers and the revolution(s) brewing inside, recognizing in turn the contradictions in anything that might seem like an answer. This is a book of intricate operation on every level, from conception to line, from diction to affect. As such, the poems only reveal their fullness through sustained engagement. Fagin's strange, beautiful music, however, is evidence that the rewards of such engagement are as well-earned as they are plentiful."

– Publishers Weekly, 6/15/2015
Review of Letters to the Future: Black WOMEN / Radical WRITING:
"In a way, for Fagin, Mullen, and a host of other contributors, language turns material. By listening for phonetic links between words and blending modes of communication, these writers steep themselves in the work of undoing the dualisms between private and public, personal and political, that are built into language and provide us with ready-made ways of making meaning."

—from Ben Rutherfurd's review of Letters to the Future: Black WOMEN / Radical WRITING, edited by Erica Hunt and Dawn Lundy Martin (Kore Press): Under A Warm Green Linden, 12/20/2018
other writing:
"Perfection" in Dream Closet, Burgess ed., 2015, Secretary Press
"In Their Own Words" feature at Poetry Society of America
Futurepost response to Camille Roy's Sherwood Forest
Occupy Wall Street Library:
New Yorker Book Bench article about Occupy Wall Street Library
Library Journal article
Grub Street article
Atlantic Wire article here and another one here
AlterNet article, 10 years later from Amy Goodman, "Another world is possible': How Occupy Wall Street reshaped politics and kicked off a new era of protest"
The Brooklyn Ink
American Libraries, "A Library Occupies the Heart of the Occupy Movement"
Although there are some inaccuracies we haven't been able to edit out, more information and links about the People's
Library are available on Wikipedia.
Better, go directly to the source: The People's Library.