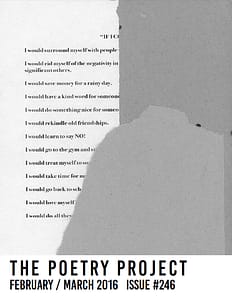 The February / March issue of the Poetry Project Newsletter is now available for download on the Project site here.
In addition to all the regular Project goings on, #246 includes poetry from Amber Atiya, art from Steffani Jemison and Oasa DuVerney, a conversation between Barbara Henning & Patricia Spears Jones and reviews from Jess Mynes (on Anselm Berrigan); Cornelia Barber (on Melissa Buzzeo); Jai Arun Ravine (on Gabriel Ojeda-Sague); Sara Jane Stoner (on Sueyeun Juliette Lee); Miller Oberman (on Patricia Spears Jones); a William Carlos Williams crossword puzzle & more!
Thanks to all the contributors who made this one a beautiful issue.