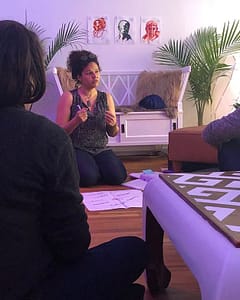 I began practicing meditation and yoga as a teenager. Initially drawn to Zen, I've been practicing Vipassana meditation for more than 25 years. In 2014 I found my way to a Mindfulness-Based Stress Reduction (MBSR) course looking for stress reduction. What I found there were mindfulness practices that supported me through a period of severe physical pain and limited mobility due to a spinal injury. Mindfulness served as a gateway to an entirely different way of being in and relating with the world. My yoga practice also deepened profoundly in response to the physical injury, supporting my healing. In fact, now I have to move to preserve the mobility I regained. To that end, I completed a 200-hour yoga teacher training in 2017 along with additional trauma-informed trainings for yoga, meditation and other mindfulness practices.
Professionally, I have worked for many years as a librarian, an editor, and a writer. I shifted focus to education, facilitating workshops and trainings in the field of sexual and reproductive health for years before eventually returning to one of my first loves, library work.
For the past six years, I have led groups in yoga and meditation, offering workshops and daylong meditation retreats as well as Reiki trainings. A qualified teacher of Mindfulness-Based Stress Reduction through the Center for Mindfulness in Medicine, Health Care and Society at the University of Massachusetts Medical School with additional training at at Brown University's Mindfulness Center, I also periodically offer the traditional 8-week MBSR course.
Craving deeper dharma study and practice, I participated in Spirit Rock's Community Dharma Leader training (CDL6) and am currently part of the Sacred Mountain Sangha two-year Dharmapala training, taught by my primary teachers Kittisaro and Thanissara. I have also taken a number of courses and trainings through the Barre Center for Buddhist Studies and other sanghas.
My lived experience and years of practice directly inform my offerings. I am committed to sharing practical tools and information that nourish people's capacity to relate to their lives from a space of conscious intention. I support people by sharing what I love– engagement with symbolic realms, exploration of ritual, the imaginal, metaphor and sacred sound.
More information about upcoming mindfulness offerings is available at https://mbsr.betsyfagin.com/