Mary Oliver is quoted regularly in mindfulness and yoga circles. Probably because her lines are so beautiful and they're also very true. One of them is "attention is the beginning of devotion" from her essay "Upstream." (An article in the Atlantic, reflecting on that essay is here.) I could spend ages diving into Oliver's work. I'm incredibly grateful that I have the opportunity to do just that. I've been living closely with her work for the past few months, and will continue to do so through the summer when I'll be guiding a workshop at Poets House on her work, Attending to Everyday Ecstasy.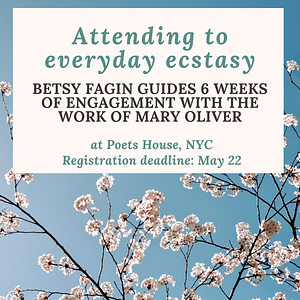 I'm looking forward to spending time at Poets House again. Before becoming a librarian I wrangled the collection at Poets House for years in the old location on Spring Street. The new spot on the water is beautiful, a perfect setting to explore this work. In this practical workshop, we'll dive into Oliver's work and make use of Poets House's waterfront location to cultivate attention as we listen to the world and explore our "place in the family of things." We will create new poems and investigate earnestness, accessibility, and darkness in Oliver's work, focusing on Dream Work and Devotions.
The course runs from June 11-July 16, 2020 and registration is open until May 22nd.
Poets House is wheelchair accessible & located at 10 River Terrace in New York City.