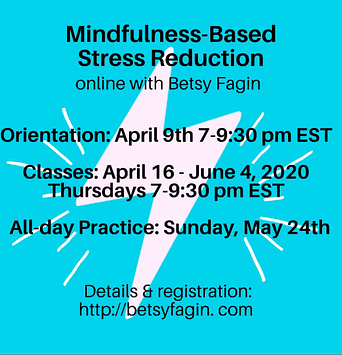 Here we are. I hope everyone is feeling as safe and cared for as possible in these unprecedented times. Amid all the uncertainty and emotional extremes, I want to offer some of the practices that have been supportive to me, hoping they may be useful for others as well.
To that end, I'll be offering the traditional 8-week Mindfulness-Based Stress Reduction (MBSR) program online beginning next month. Who couldn't use a little stress reduction right now? The virtual course will run on the Zoom platform on Thursdays from 7 – 9:30 pm from April 16th to June 4st with an all-day practice session on Sunday May 24th.
Mindfulness-Based Stress Reduction (MBSR)
Free Orientation: Thursday April 9 | 7:00 – 9:30 pm
(Required if you intend to register for the class. If you can't attend the orientation, please arrange to speak with me before the first class.)

Course Sessions: Thursdays, April 16 – June 4, 2020 | 7:00 – 9:30 pm
Practice Day: Sunday, May 24, 2020 | 9:30am – 5:00pm
What is MBSR?
MBSR uses meditation, mindful movement and inquiry as a way of supporting people to relate differently to stresses in their lives. Originally developed for people with chronic pain, it has expanded to benefit people dealing with a range of challenges from serious illness to the day-to-day pressures of modern life. Research over the past 35 years indicates that a majority of people who complete the course report a greater ability to cope more effectively with short and long term stressful situations; an increased ability to relax; lasting decreases in physical and psychological pain; and, most importantly, a greater energy and enthusiasm for life. More info on MBSR here.

What to Expect
This course is not group therapy. It is not a healing circle. It is not offered as an alternative to traditional medical and psychological treatments, but as a complement to these approaches. MBSR is a guided, experiential investigation into our relationships with stress and the habits of our minds. MBSR uses meditation, yoga, and inquiry to support people in relating differently to the stresses in their lives. We will practice paying attention to what arises through daily practice and together we will explore the challenges that arise and how we meet them through through self-reflection and group discussion.
Participants are supported by recorded guided meditations in developing their practice. All are expected to practice 30-45 minutes of formal meditation daily as well as various informal practices. The course will be held online on the Zoom platform. To participate fully, a stable internet connection, a computer, tablet, or recent smartphone and space to participate in mindful movement exercises are required. We will be engaging in all the practices included in the in-person course.

Tuition: $350-$250
Includes materials and practice day. Course fees have been adjusted to reflect the current economic hardships many are facing.
Space is limited. Registration ends March 31, 2020.